Highly performance optimized SDS solution
FlexSDS Scale-out storage software is a reliable, high performance and distributed block level storage solution which is true scale out (1-1024) and lowest TCO in the world. The distribute storage solution is designed as Server-SAN which provides full functional in iSCSI , iSER and NVMe over Fabrics transport, fully support for a verity of virtualization platform like VMWare, Hyper-v Citrix XenServer and Openstack-Qemu-KVM based HCI systems.
FlexSDS Scale-out storage software is designed and high performance optimized for all-flash appliance, fully support for NVMe kernel-bypass, RDMA, and  traditional hardware (TCP, SATA / SAS disks).
Software Defined Storage solution for All-Flash (NVMe, RDMA) and traditional hardware (TCP, SATA / SAS).
Single node and multiple nodes scale-out storage software.
iSCSI, iSER (iSCSI over RDMA) and NVMe over Fabric (NVMe-oF) target software.
High availability (multi-copies, auto-recovery) storage software.
NVMe full stack kernel-bypass (end-to-end NVMe) solution.
Overview
FlexSDS Scale-out Server-SAN is software only and easy-to-install solution which can be easily installed into any x86 based machines, by providing a full-featured web based management system, user only need a few minutes to build one node or a multi-nodes storage cluster.
FlexSDS is also designed for Hyper-Converged Infrastructure solution, it can be deployed as HCI mode and Server-SAN mode:
For HCI mode, FlexSDS can be installed together with virtualization solution like KVM/Qemu based, one server node can offer both storage and compute service at the same time.
For Server-SAN mode, FlexSDS will work as distributed IP SAN storage and offer data service to other servers via iSCSI, iSER and NVMe-oF.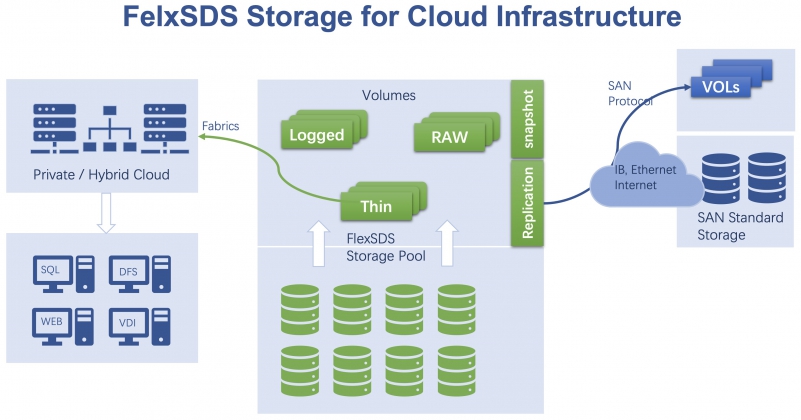 Using
Using FlexSDS ServerSAN is very easy, user can quickly create a storage cluster in 30 minutes. All management operations can be done in all-in-one WEB management console.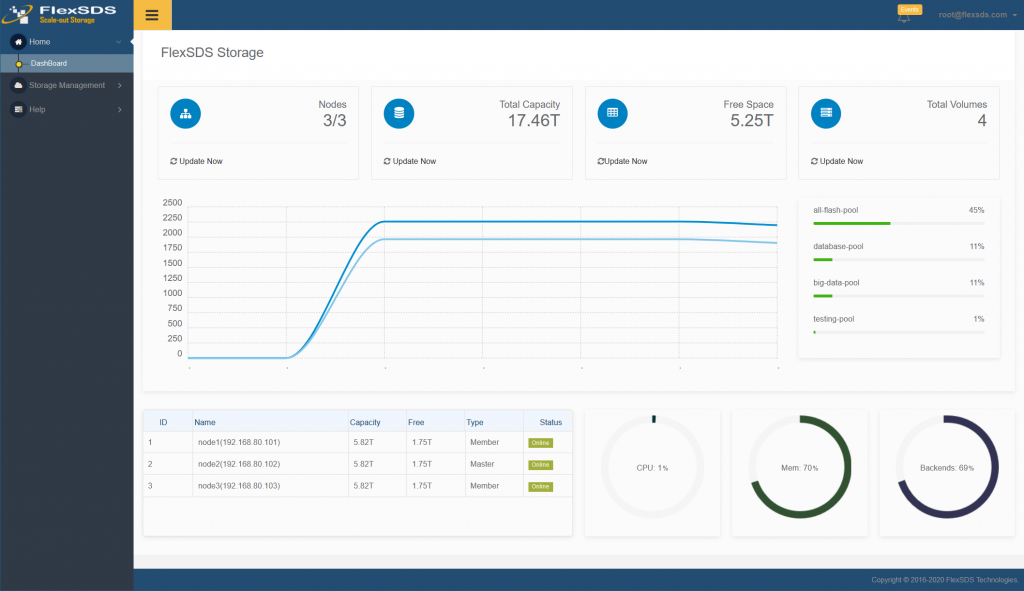 Figure 1.
FlexSDS ServerSAN is designed as true scale-out distributed storage cluster, which is working on x86_64 based Linux platform, but user don't need spend much time to configure the system, we provide "one key" install scripts will quickly deploy and configure a scale-out storage cluster in minutes.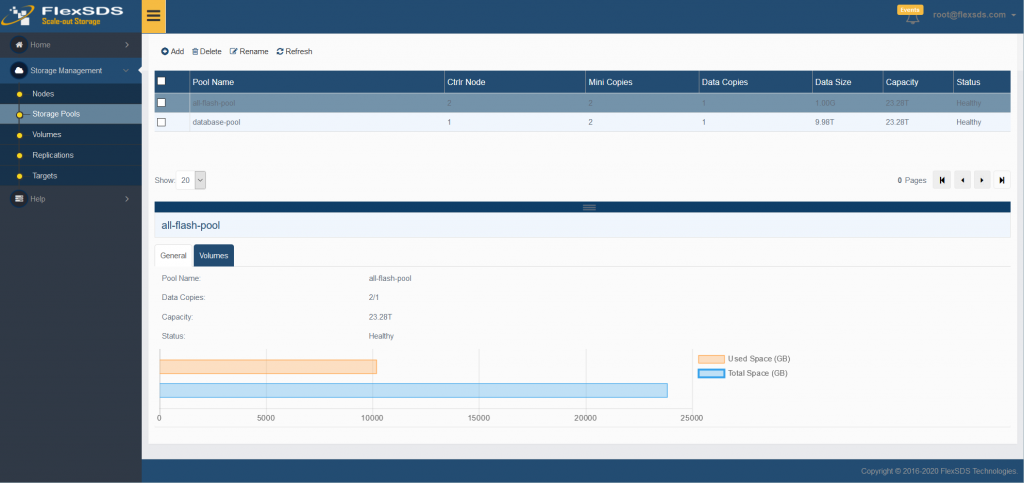 Figure 2.
Whats need user to do are:
Install Linux OS as hardware and OS requirements;
Set up storage node and cluster in WEB Management.
Please see Install and Deploy FlexSDS Scale-out Storage. And for more information about how to using the product, please refer to product user's manual.
Requirements
Software requires:
Linux with kernel >= 2.6
Recommend OS: CentOS 7.x and Ubuntu Server 18+.
x64 based system.
Network Connections: InfiniBand, RoCE, iWarp or Ethernet.
Hardware requires:
Intel Xeon class processor or similar.
2 cores and more.
8 GB of RAM.
At least one additional disk for storage.
Recommend Configuration (All Flash):
Intel Xeon 2680 v4 2.4GHZ x 2, 28 cores in total.
64 GB DDR4 memory.
NVMe Disks x 8
CentOS 7.2, with 3.10 kernel.
InfiniBand Network.
Release Notes
Release Version: FlexSDS ServerSAN 2020 V3, Release Date: 12/03/2019
Release Feature:
High performance optimized scale-out storage for All-flash appliance.
Storage Network: iSCSI, iSER and NVMe over Fabric
Server Pool: Polling Mode
Storage Pool: Software Defined Storage Pool
Snapshots: Unlimited and Zero-Copies Snapshots
Replication: High Availability and Replication over RDMA or TCP
Web Management: Manage multiple servers in one platform
Awards
VMware Ready logo assures that FlexSDS Server is fully compatible with VMware products.

VMware is virtualization leader that produces many virtualization products such as VMware ESX/ESXi, VMware Workstation, VMware vSphere. Recently it is helping build reliable and affordable private and public clouds.