FlexSDS is software only scale-out storage stack for all-flash, hybrid, and HDD-only hardware, which can convert any x86 based machine into a scale-up, scale-out storage clustering which providing storage service over IP SAN protocol like iSCSI, iSER and NVMe-oF.
FlexSDS is full designed for the all-flash systems, all its stack are designed as polling mode, lock-free, zero-context-switch etc. To gain maximum performance of the hardware (software no longer to be the bottleneck).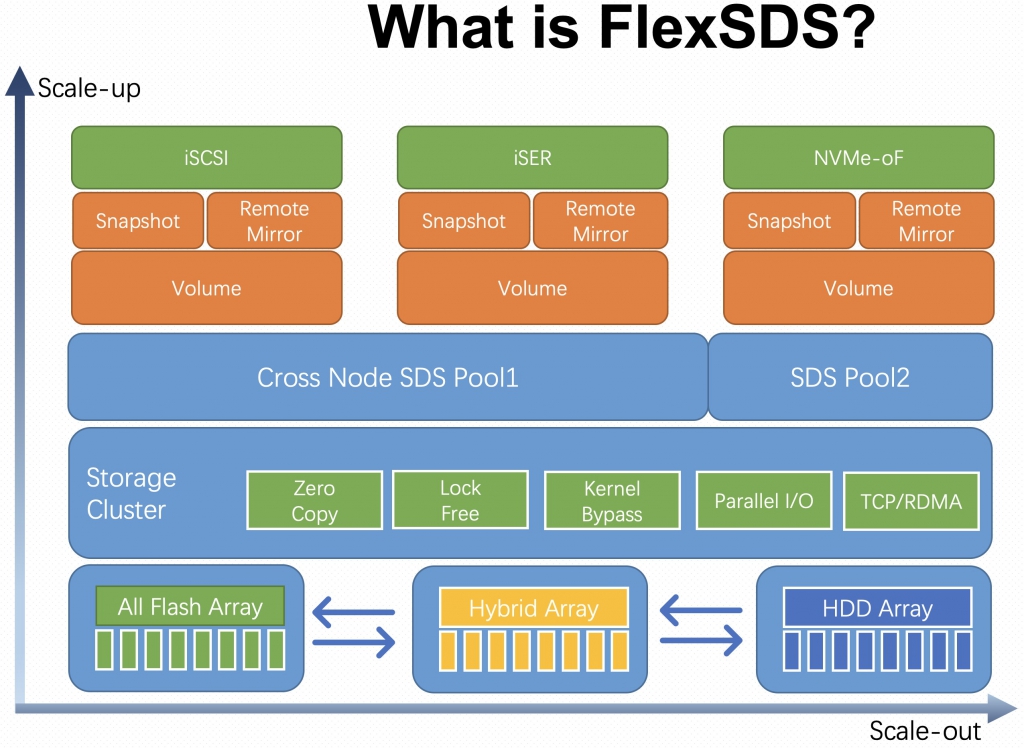 FlexSDS is 100% SDS which can manage all disks and make them as pooled with the ability to create arbitrary, dynamic block volumes with unlimited zero-copies snapshot enabled.
Polling mode server pool, listening to multiple NICs and ports.
Protocol Support: iSCSI (TCP), iSER (iSCSI Extension for RDMA) and NVMe-oF (NVMe over Fabric).
High Availability and Remote mirror: All interfaces (iSCSI, iSER, and NVMe-oF) support multi-path HA.
Kernel-by-pass, completely kernel-by-pass and zero data copy in I/O path (except latency disk support).
Legacy device support, support for SATA/SAS HDD and SSD.
Data safety, strong consistency I/Os return back after safely placed in Disks.
Easy Management, providing easy-to-use, all-in-on and centralized WEB management platform.
Almost no limitation to use FlexSDS, FlexSDS can be working on All Flash Array, and as well as working on traditional SATA/SAS arrays, user can use even 1-2 NVMe to get the benefits of the kernel-by-pass performance.
FlexSDS software defined storage is available for End-Users and OEM partners in all around of the world.